THIS RALLY IS NOW CLOSED
Win a Trip to Meet Blake Wheeler at a Jets Game


The Prize!
2 tickets to a mutually agreed upon 2023-2024 Jets game

Meet Blake Wheeler

Signed jersey and game-used stick

Airfare and hotel accommodations
CONGRATS ELSA D.
Winner Elsa D. from Winnipeg is going to celebrate Blake Wheeler's King Clancy Memorial Trophy nomination with the ultimate game day experience! She'll attend a game during the 2023-2024 season and cheer on the Jets from incredible seats. Then head home (hopefully with a win), plus a signed jersey and game-used stick.
Your Donation Helped:
Project 11
True North Youth Foundation's PROJECT 11 is an engaging cross-curricular proactive initiative to support teachers and students from kindergarten to Grade 12 in both English and French. Lessons have been created by teachers, for teachers using Manitoba's Health Education curriculum outcomes and covers general Language Arts outcomes as well.
The program includes video-based lessons and daily activities which have been designed to help support students and teachers in bringing mental health awareness, along with proactive resiliency building techniques, into the classroom and into students' lives. In addition to lessons and activities, Project 11 also offers Intermission videos. These are short videos that provide an opportunity for students and to try out a variety of wellness promoting activities such as dance, mindful movement, relaxation techniques, art energy, fun with food and many others. These Intermissions give students a chance to experience and to practice positively responding to stress, and to build their capacity toward more holistic health.

PROJECT 11 uses concepts such as practicing focusing the mind, increasing self-awareness of feelings and strengths, and building positive relationships. By using a strength-based approach, the program hopes to help students:
o Build a sense of their own team as a class
o Increase their ability to connect with one another
o Increase self-awareness of social, emotional and physical wellness
o Create a stage of empathy
o Enhance their academic performance and build resiliency

PROJECT 11 is a part of True North Sports and Entertainment, the Winnipeg Jets and Manitoba Moose, through it's True North Youth Foundation.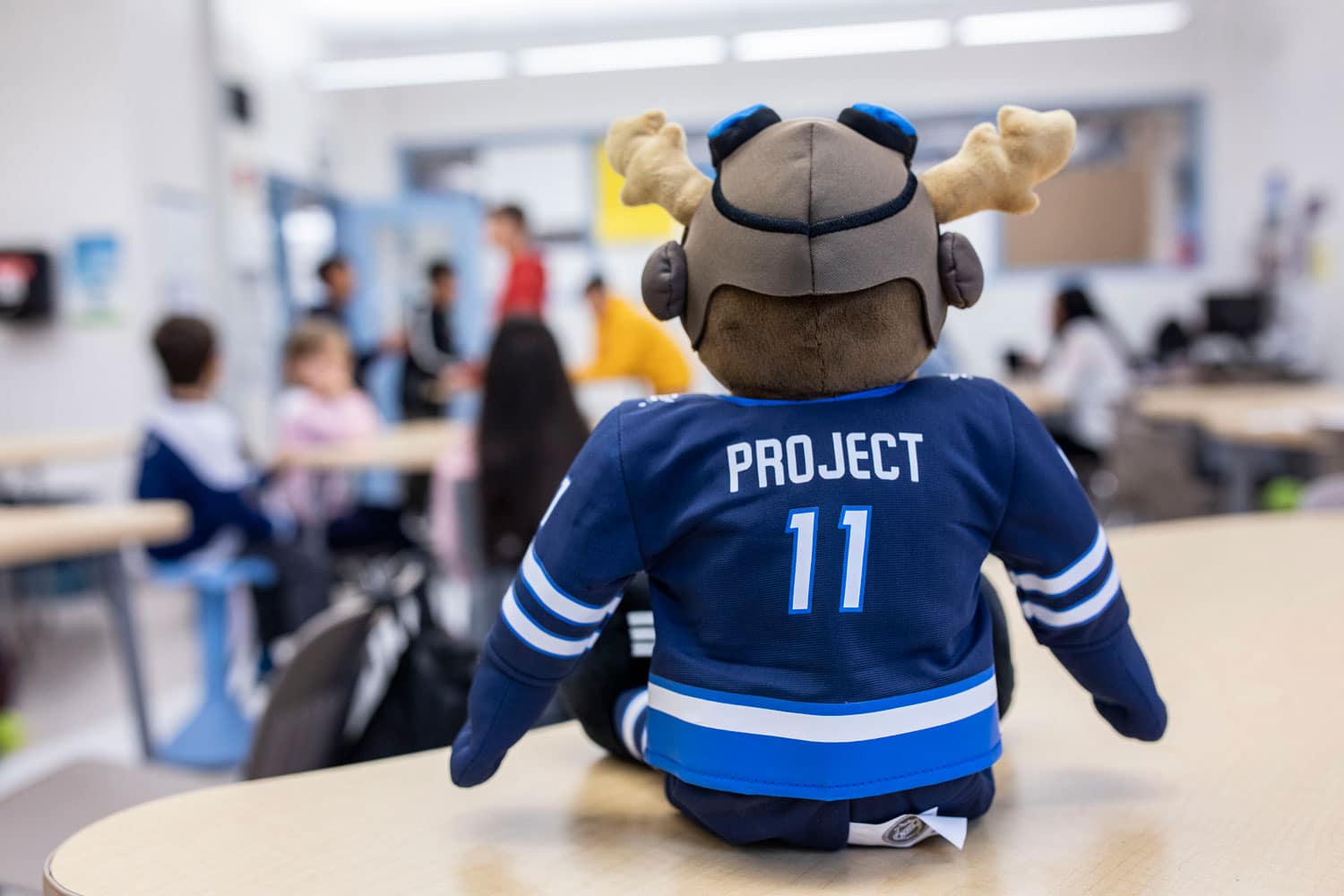 Your donation is 100% tax deductible.
Your donation is tax deductible to the full extent provided under the law. Every Alltroo rally raises funds for Change Starts With Me, a Section 501(c)(3) charitable organization. All donations go to Change Starts With Me, which has decided to grant your donations, minus costs associated with fundraising and the prize, to Project 11. (And we'll always email you a receipt of your donation!)
DETAILS & LEGAL INFO
NO DONATION OR PURCHASE IS NECESSARY TO ENTER OR WIN.  A DONATION OR PURCHASE WILL NOT IMPROVE YOUR ODDS OF WINNING.
Each Sweepstakes is also governed by the Standard Sweepstakes Terms and Conditions. In the event of a conflict between these Sweepstakes Rules and the Standard Sweepstakes Terms and Conditions and, these Sweepstakes Rules govern. Capitalized terms used and not defined below have the meanings assigned to them in the Standard Sweepstakes Terms and Conditions.
Eligibility: This Sweepstake is open to residents of the United States and Canada who have reached the age of majority in their State, Province or Territory of residence and are of legal age to form a binding contract. Employees of Sponsor or Sponsor Partners and their respective family members are prohibited from entering.  No person is eligible to win more than one prize on this site during any twelve (12) month period.  Entrants are subject to all applicable federal, state, provincial and local laws and regulations.  Void where prohibited by law.
How to Enter: Visit alltroo.com to utilize any of our methods of entry. Alternative method of entry
Winner Availability: You must be available to attend a Winnipeg Jets home game in order to be deemed the Winner. Winner will be requested to provide three (3) separate dates of preferred travel and Alltroo will work towards fulfilling at one (1) of those dates. Any Potential Winner not available to claim the prize in the Winnipeg, MB area will be disqualified and another Potential Winner will be chosen.  You bear all risks of inclement weather and travel eligibility restrictions and requirements. Event date and time are subject to change.
Notification: The Potential Winner will be notified by email around 5:00 PM CST on July 24th, 2023.  If the Potential Winner does not acknowledge acceptance of his or her prize within 24 hours, he or she will forfeit the prize and another Potential Winner will be chosen using the same procedure specified in the Standard Sweepstakes Terms and Conditions. At Sponsor's sole option, it may contact any Potential Winners via phone or text following the email notification, but Sponsor is not required to do so.
Additional Sponsor Parties: National Hockey League, National Hockey League Players Association
Entry Period:  This Sweepstakes begins on June 12th, 2023 at 12:00 pm Central Time and ends on June 27th, 2023 at 11:59 PM Central Time (the "Entry Period").  Entries received before or after the Entry Period are void. Sponsor's computer is the official time-keeping device for this Sweepstakes.
Prize: One (1) Winner will receive a 2023-2024 Gameday Experience With the Winnipeg Jets consisting of: (i) Round trip airfare for two (2) to Winnipeg, MB (maximum value US$1000) (if address used to enter sweepstakes is within 200-miles of YWG then the airfare portion of the prize will be forfeited); (ii)  One (1) hotel room with a two (2) night stay in Winnipeg or surrounding area (maximum value US$900)(if address used to enter sweepstakes is within 60-miles of YWG then the hotel portion of the prize will be forfeited); (iii) Two (2) tickets to a Winnipeg Jets home game during the 2023-2024 season (maximum value US$600); (iv) Signed Blake Wheeler Jersey (maximum value US$200); (v) Signed game-used stick (maximum value US$300); (vi) Meet-and-Greet with Blake Wheeler; the "Prize". Sponsor reserves the right to substitute a prize of equal or greater value in Sponsor's sole discretion.  Prizes are non-transferable and non-refundable, and no substitutions will be made except as provided herein, in the Sponsor's sole discretion.  All expenses not specified, including, but not limited to taxes, title, registration and insurance, are the sole responsibility of the Winner. Sponsor's decisions regarding timing and location of delivery of the Prize are final.
All other expenses not specified above including, but not limited to, all other meals, beverages, gratuities, incidentals, taxes and other transportation are the sole responsibility of Winner. Sponsor is not liable for any expenses incurred as a consequence of travel delays or any weather issues that prevent the Winner from traveling or otherwise attending the 2023-2024 Winnipeg Jets home game and accepting the prize, in which event any missed portion of the prize is forfeited in its entirety and no substitution will be provided.  The prize is non-transferable, non-exchangeable, has no cash value, and cannot be substituted or replaced.  All prize details are at Sponsor's sole discretion.  Sponsor reserves the right to substitute alternative prizes of greater or equal value if for any reason the prize becomes unavailable.  Any difference between the stated estimated retail value and the actual value will not be awarded.
The total estimated retail value of the prize is US$3,000.